Description
Leo Bodnar BU0836A is the ultimate choice for DIY sim racers looking to make DIY sim racing pedals, DIY handbrakes, DIY button boxes and more! If you are looking to make a device that needs to read as a joystick when plugged into a PC and can take multiple inputs, this is the choice for you. 
8 Analog Inputs at 12-Bit Resolution
Supports up to 16 Rotary Encoders
Connect up to 12 Buttons or Switches
Powered by +5V USB
Full Speed 12Mb USB Connection
Compatible with any game that can detect and use generic joysticks

 - MS Flight Simulator, X-Plane, rFactor, iRacing and other driving Games etc.
Payment & Security
Your payment information is processed securely. We do not store credit card details nor have access to your credit card information.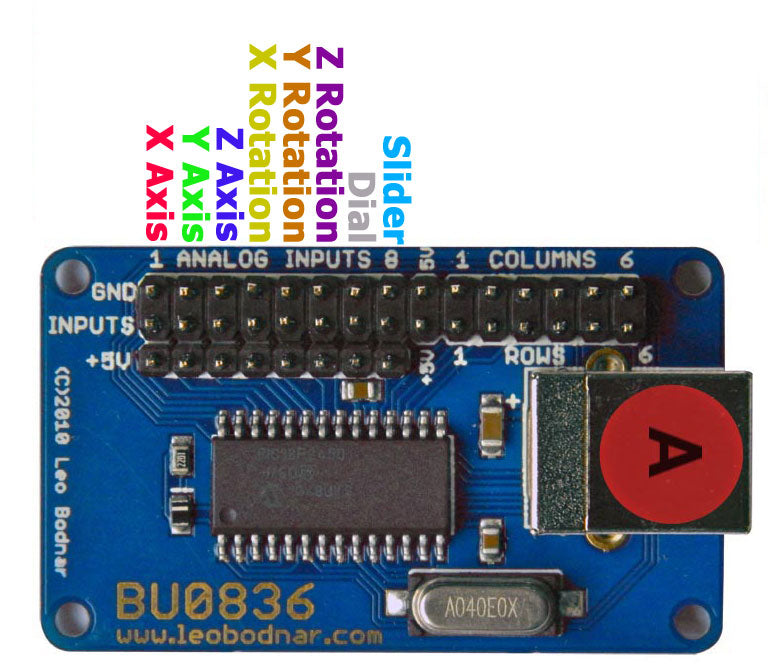 8 Analog Inputs with True 12-Bit Resolution
4096 steps of resolution. Even 1/4 of this range is still 1024 steps!
To support true 12-bit performance each analog inputs has independent set of +5v and GND terminals, oversampling and sophisticated signal filtering.
Best Choice For DIY Sim Racers
The Leo Bodnar BU0836A is the most popular microcontroller for DIY Sim Racers because of how easy it is to setup and use. Perfect for DIY Sim Racing Pedals, Handbrakes, Button Boxes and more!